Water Leak and Burst Pipe Repair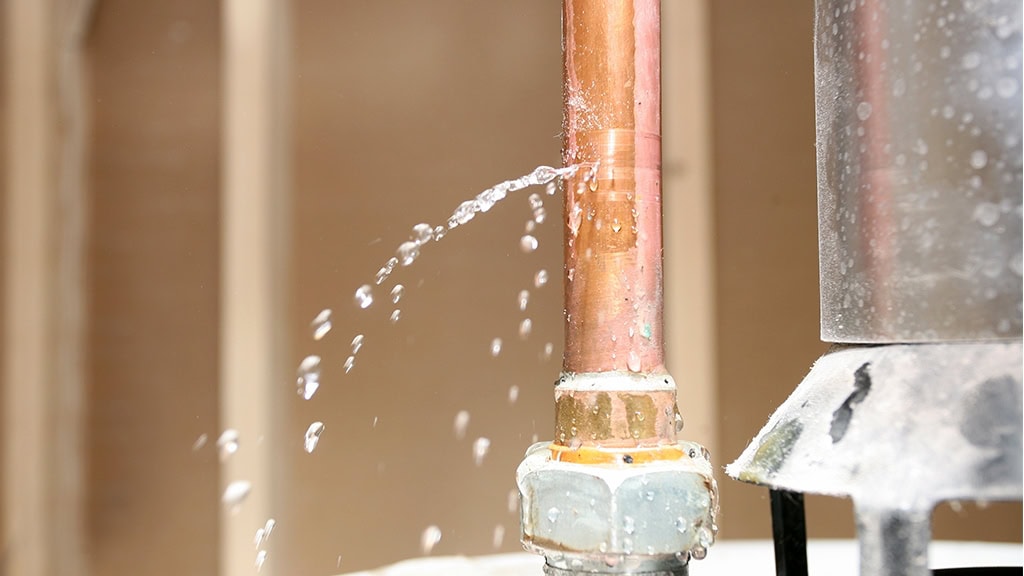 Water Leak Detection in Strongsville, OH
If you need a reliable water leak detection company, choose Gene's Refrigeration, Heating & Air Conditioning, Plumbing & Electrical, proudly serving Strongsville and NE, Ohio.
Water leaks are one of the most destructive plumbing problems property owners can face. If you suspect that you have this issue, you need a contractor that can act quickly to minimize the damage. This is where we come in.
Gene's Refrigeration, Heating & Air Conditioning, Plumbing & Electrical offers timely water leak detection and repair services in Strongsville, OH, and the surrounding area. We have 24-hour emergency service available with no overtime charges, so you can rest easy when plumbing problems arise.
Do you need water leak detection services? We are here to help.
Rapid Water Leak Detection in Cuyahoga County
If you want to help safeguard your property from future water pipe leak issues, call us. One of our most popular and effective forms of protection is a Lyric Wi-Fi water leak and freeze detector installation.
This cutting-edge technology will automatically shut off your water main once it detects a leak, so you don't have to worry about your property flooding while you're away.
Signs You Need Frozen Pipe Repair
The temps in the Greater Cleveland area area can dip relatively low in the winter, making frozen pipework a fairly commonplace issue. Watch out for these warning signs and call us for plumbing leak repair when you notice them:
No water: Try turning on the faucet. If no water comes out, that's a sign that your pipes may be frozen.
Frost on exposed pipes: Excessive ice buildup on your exposed pipework can indicate a frozen interior.
Water pressure issues: Low water pressure may be caused by a blockage in the pipe, which can happen when pipes freeze and thaw.
Odd smells coming from drains: If you notice any foul odors coming from your fixtures, it could be a sign of sewage backup due to a frozen pipe.
Our licensed, bonded, and insured technicians can provide lasting water leak repair, so don't hesitate to reach out today. We offer maintenance plans to keep your pipes running smoothly.
If you're dealing with a widespread water line leak, call us. Our water line services will restore your plumbing in no time.
Call Us When You Need Burst Pipe Repair
Burst pipework can cause lasting water damage within just a few minutes, so call us immediately when you spot the issue.
As a BBB-accredited, NATE-certified, Carrier Factory Authorized, and family-owned and operated business, we remain committed to providing our clients with the most reliable quality of service. We'll work quickly to get your plumbing back in order and minimize the damage to your property.
Need Water Leak Detection and Burst Pipe Repair Service?
Contact the experts at Gene's Refrigeration, Heating & Air Conditioning, Plumbing & Electrical.
"Jeff was such a blessing. He was experienced and knowledgeable and helped calm me down while I was in panic mode. I can't say enough nice things about how wonderful Gene's has been servicing, repairing and replacing. Thank you Jeff for making me giggle and calming me down. Thank you for ALL your help."
- Penny R.
"MY TUB BACKED UP on a Saturday night ! I tired a couple of things that I thought might help, but to no avail. I was so very upset, as I don't have a plumber. I called Gene's and Joey came out RIGHT AWAY. He was able to correct the issue and get our tub back to tip top shape. What a really nice guy, and what a great company. You now have a new customer!"
- Sally S.
"Quick to schedule appointment. Was able to repair part of job that day and very quickly. Very professional and helpful explaining the process and how to keep drain clean for future. Returned based on my schedule to install outdoor faucet. Working beautifully! Gave tips for winterizing. Couldn't ask for better service!"
- Lindsey M.