Waterline Repair and Replacement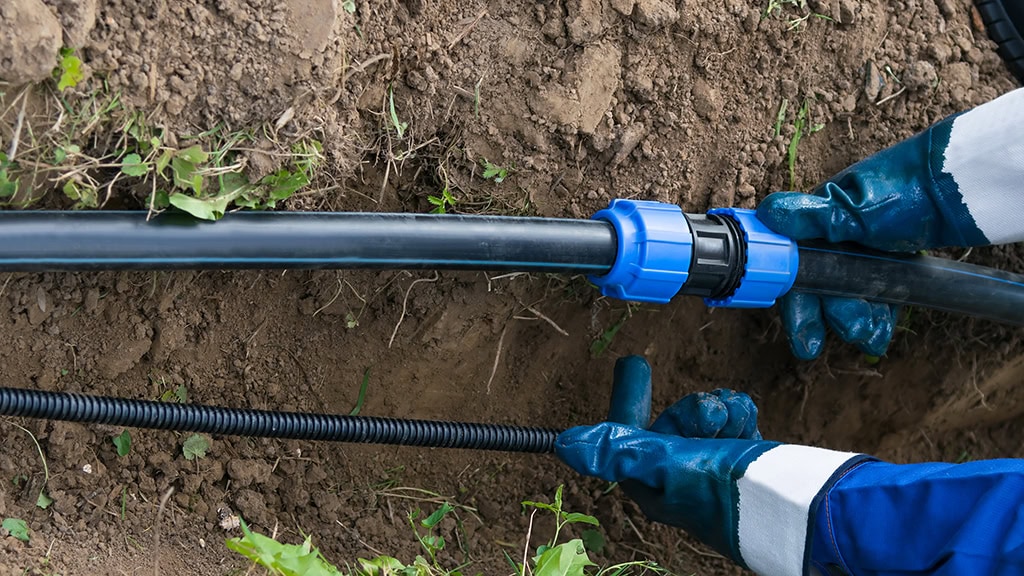 Waterline Services in Brunswick, OH
Our licensed, bonded, and insured technicians are here to address your water line concerns. Call to schedule your service in the Greater Cleveland area today.
Are you dealing with a water line problem? Don't wait until the situation gets worse—call Gene's Refrigeration, Heating & Air Conditioning, Plumbing & Electrical right away.
We offer comprehensive water line services in Brunswick, OH, and the surrounding area. When you partner with our team, expect no less than flat-rate, straightforward pricing, professional customer service, and your 100% satisfaction guaranteed.
Do you need water line services? We offer everything from water line installation and replacement to water line repairs and comprehensive maintenance plans.
Signs You Need Main Water Line Repair in Medina County
Your waterline system hides behind your walls and floors, making it difficult to spot problems directly. However, you can watch out for these common symptoms that indicate disrepair:
Rising water bills: If your usage remains consistent, but you see a sudden spike in your costs, it can stem from a hidden leak.
Weak water pressure: Waterline damage can restrict the water flow into your home, leading to a drop in pressure.
Poor water quality: If your water starts to look, taste, or smell different, it's likely due to a problem with your water line.
Water leaks: Water stains, warped surfaces, and puddles in your home can indicate a waterline leak.
Strange noises: If you hear sounds of rushing water or bubbling coming from your walls, it's a sign you have a water line issue.
If you're experiencing any of these problems, contact our team immediately. We have a 24-hour emergency service available with no overtime charges.
Is It Time to Invest in a Water Pipe Replacement?
If your plumbing is ancient and prone to costly problems, call us. We understand that a complete water pipe replacement represents a significant investment. So, our technicians will work with you to determine whether a new system best suits your needs and budget.
We offer free estimates on equipment replacements, and we can help you take advantage of flexible financing options with approved credit. You can also rest easy knowing our technicians will treat your property with the utmost respect.
Are you experiencing problems with your plumbing fixtures? Check out our drain cleaning services and see how we can handle even the most stubborn obstructions in your plumbing.
We Offer the Best Water Main Services in Northeast Ohio
You rely on your plumbing system every day to deliver clean and fresh water. Don't risk your health by entrusting your waterline to anyone but the best.
We're a family-owned and operated, NATE-certified, Carrier Factory Authorized, BBB-accredited business with a reputation for excellence. When you choose us, you get a team with over 60+ years of industry experience and insight.
Need Waterline Repair and Replacement Service?
Contact the experts at Gene's Refrigeration, Heating & Air Conditioning, Plumbing & Electrical.
"Jeff L. did a super great job. He was polite, courteous, and went above and beyond to make sure the job was right. Thank you !"
- Jean H.
"Jeff was superb and very thorough. It was a pleasure to have him in my home. Thanks for the assistance."
- Sari K.
"Jeff was such a blessing. He was experienced and knowledgeable and helped calm me down while I was in panic mode. I can't say enough nice things about how wonderful Gene's has been servicing, repairing and replacing. Thank you Jeff for making me giggle and calming me down. Thank you for ALL your help."
- Penny R.
"MY TUB BACKED UP on a Saturday night ! I tired a couple of things that I thought might help, but to no avail. I was so very upset, as I don't have a plumber. I called Gene's and Joey came out RIGHT AWAY. He was able to correct the issue and get our tub back to tip top shape. What a really nice guy, and what a great company. You now have a new customer!"
- Sally S.
"Quick to schedule appointment. Was able to repair part of job that day and very quickly. Very professional and helpful explaining the process and how to keep drain clean for future. Returned based on my schedule to install outdoor faucet. Working beautifully! Gave tips for winterizing. Couldn't ask for better service!"
- Lindsey M.